Current Students
12/04/2020: This page is undergoing major revisions. Please email econgrad@unm.edu for the most up-to-date information.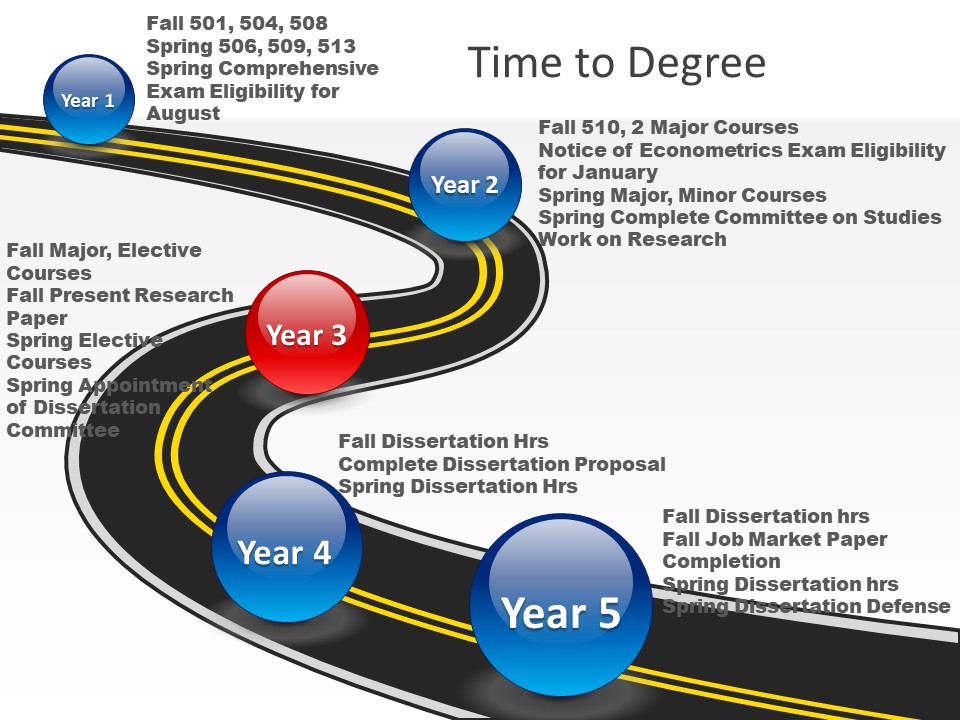 Introduction
As a current student in the Economics doctorate program, one makes a commitment to seek knowledge and develop a deep grasp of the field. Attaining a Ph.D. is "no mere matter of meeting requirements", thus course work is only a small part of the five year program. Students in the program conduct research, participate in seminars, attend and present at conferences, and more as part of their professional development as economists.
The timeline below is not an exhaustive list of everything you will experience in your five year journey. It should however, prove useful for keeping sight of major deadlines and program requirements.
Program Preparation
After being admitted to the program, the department will be in close contact with you to make sure your transition to UNM is smooth. Below is a general guideline of what your summer after acceptance of admission will look like.
MAY - Setup your UNM NetID. This will be your universal credentials for UNM's online systems, and your UNM email (through Microsoft Outlook).
JUNE - Complete your Fall Course Approval Form and register for Fall Courses through LoboWeb. (This is done every Spring and Fall Semester!)
JULY - Arrive in New Mexico and visit campus
EARLY AUGUST - Attend Math Bootcamp (ECON 595) and graduate student orientation events and services.
Year I
A students first year in the program focuses on coursework and preparation for the Qualifying Exam in the week preceding the start of their second year (early August). In the Fall semester students will take: ECON 501 - Microeconomics I, ECON 504 - Mathematical Tools and Economics Models, ECON 508 - Statistics and Introduction to Econometrics. In the Spring, students take ECON 506, ECON 509, and ECON 513.
Year II
One week prior to the second Fall semester, all eligible students will sit for the Qualifying Exam. In the preceding summer students are highly encouraged to study together and prepare for this very important exam. In early January, eligible students will then sit for the Econometrics Exam. Following the Econometrics Exam, students will start forming their Committee on Studies (CoS), a group of at least three faculty members who will guide them on their Field Research Paper Requirement. Throughout this year students will also continue their coursework focusing on their major and minor fields.
Year III
In their third year, students will continue with coursework until they have completed their Field Research Requirement and met the Credit Hour requirements for their major, minor, and the program as a whole. By the end of this year, students will have presented their Field Research Paper, submitted it to a journal, Applied for PhD candidacy and formed a Dissertation Committee.
Year IV
In their fourth year, students should be taking dissertation hours with their Dissertation Committee Chair. Throughout this year students will be working on this important project. In the summer between the fourth and fifth years, students should also begin work on their Job Market Paper and Packet so are ready to go apply for jobs in the Fall.
YEAR V
FALL - Dissertation Hours and finalization. Finish Job Market Packet!
SPRING - Dissertation Hours. Finalize and Defend Dissertation!
MAY - GRADUATE! Join our Alumni List and stay in touch!